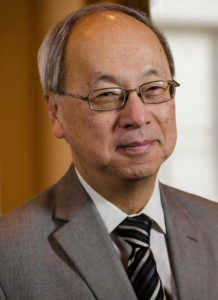 Thursday, June 15
by Bing Goei
6:45 pm Pre-presentation Reception with Speaker – 7:30 pm Presentation Begins
Lake Michigan College, South Haven Campus
125 Veterans Blvd.
South Haven, Michigan
Bing Goei, a highly successful and entrepreneurial Asian-American who currently serves as Director of the Office for New Americans for the state of Michigan, will address the Speakers Series of South Haven audience on Thursday, June 15 on the campus of Lake Michigan College in South Haven at 7:30 p.m. His topic will be Immigration and Our Future. The evening will begin with a pre-presentation reception with the speaker at 6:45 p.m.
Goei is a proud Asian-American who immigrated to Michigan from Indonesia via the Netherlands with his family in 1960. He will share an inspiring story of his journey including the obstacles, challenges and opportunities along the way, and how hard work and perseverance helped assure his ultimate success. In 2001, he purchased Eastern Floral out of bankruptcy and rebuilt the Eastern Floral Company into one of the top 50 Teleflora businesses with six West Michigan locations in Holland, Grand Haven, and Grand Rapids. His passion for entrepreneurship and diversity led him to create the International Center for Entrepreneurial Excellence, a business incubator offering low-cost space to young, minority and female entrepreneurs in Grand Rapids.
His role as Director of the Michigan Office for New Americans is designed to help grow Michigan's economy by attracting and retaining global talent, and promoting skills, energy and entrepreneurial spirit within our immigrant communities; and to make Michigan a more welcoming state. He is responsible for supporting and coordinating immigration initiatives and for making recommendations to the Governor on state and federal policies and programs.
"Goei makes the case for why immigration is so important to the future of Michigan and our country. His perspective on immigration and how it can help our economy will challenge some of the current objections we have been hearing over the past few months", said Mark Odland, President of the Speakers Series and Program Chair for this event.
Bing Goei was named the West Michigan Entrepreneur of the Year by Ernst & Young in 2005, and has been inducted into the Junior Achievement West Michigan Business Hall of Fame. Just recently, he was awarded the West Michigan American Red Cross Clara Barton Humanitarian of the Year Award, and currently serves on the TALENT 2025 CEO Council.
Coming up on Thursday night August 31, Ebrahim Moosa: Mid East issues. Dr. Moosa, a professor of Islamic Studies in the International Peace Studies program at the University of Notre Dame, is considered one of the most influential Muslims in the world.
The presentation on Immigration from Bing Goei was well attended. Here's a video and some photos from the event.
Watch the video – Bing Goei: Immigration and Our Future – by Richard Brunvand.
Read more about the event on our blog in this article by BECKY KARK – For the South Haven Tribune >>>