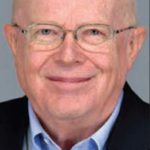 Oct 17, 2019
by David Myers
Professor of Psychology, Hope College
In a confusing era of alternative facts, fake news and civic leaders imposing fictions on reality, Myers presented lively and engaging insights. He gave examples of popular and potent false beliefs and explained how they develop.
He also examined possible biases–and successful remedies–within his own field of psychological science.
Here's some photo's from the event.
Watch the Video – Smart Thinking In A Post Truth Age by David Myers
Video by Richard Brunvand