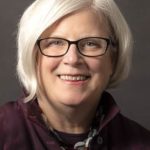 Thursday, May 21
by Mary Kramer
7PM Presentation Begins
Listiak Auditorium
600 Elkenburg St, South Haven, Michigan 49090
The Series will open on Thursday, May 21, with Mary Kramer, Publisher of Crain's business publications for Chicago, Detroit, Cleveland, and New York, and Chair of the Board of Trustees at Grand Valley State University. Kramer will offer her insights into the erosion of public trust in institutions, a topic of particular appeal in a presidential election year.
Mary Kramer, a seasoned journalist with more than 35 years of reporting, editing and publishing experience, joined Crain's Detroit Business in 1989, In 1994, Kramer was named a Vice President of Crain Communications Inc. And in 2017, she was named Group Publisher, supervising Crain's Cleveland Business, Crain's Chicago Business and Crain's New York Business in addition to Detroit.
Kramer is active in many Detroit-area business and civic organizations, including several that support at-risk girls and education. She is a trustee of the Skillman Foundation, a Detroit advocacy group for educational and economic opportunity for Detroit children; the Detroit Institute of Arts; and she chairs the Board of Trustees at Grand Valley State University. She was also the first woman to be elected President of the historic Detroit Athletic Club.