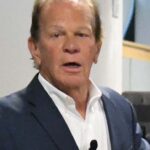 Thursday, September 14, 2023
Randy Oostra, DM, FACHE,
Retired President & CEO of Health System ProMedica
Dr. Oostra offered insights into efforts to reform the disparities of the health care provided in this country. He shared his perspective of how we can address these issues and bring about improvement.

———– Photos from the event —————
Watch the Video – American Health Care. The Good, The Bad, and The Ugly. A Call for a New Model. by Randy Oostra, DM, FACHE, Retired President & CEO of Health System ProMedica.
Video by Richard Brunvand