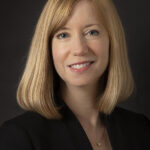 Thursday, October 7, 2021
by Kelley Root
Executive Editor, Crain's Detroit Business
The South Haven Speakers Series resumed in-person presentations with the focus on Michigan's business climate and the pandemic.
Kelley Root, Executive Editor of Crain's Detroit Business, discussed the way forward for Michigan business as they emerge from the pandemic.
Speakers series president Mark Odland welcomed everyone saying it was good to have a "live" audience after doing three virtual presentations to open the 2021season.
Ms. Root joined Crain's Detroit Business in March of 2020 after working at The Detroit News for 16 years, most recently as managing editor. Prior to her time in Detroit, she was a reporter and assistant city editor for The Grand Rapids Press. She earned a bachelor's degree in journalism from Michigan State University where she served as editor-in-chief of The State News.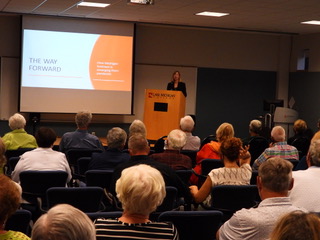 Watch the YouTube video, Michigan Business Recovery: Kelley Root, Executive Editor, Crain's Detroit Business