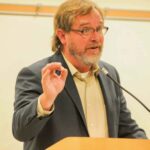 Thursday, May 18, 2023
Dr. Joel Toppen
Chair of Political Science Department, Hope College
Dr. Toppen explained that many democracies around the world have been declining into authoritarianism governments over the last several years. He defined the characteristics of once functioning democratic governments who have suffered the loss of free and open elections, the absence of freedom of the press and an independent judiciary.
———– Photos from the event —————
Watch the Video – Challenges to Democracy: The Growth of Autocracy in the World by Dr. Joel Toppen, Chair of Political Science Department, Hope College
Video by Richard Brunvand
The Speakers Series will pause until next Fall with presentations scheduled in September and October.