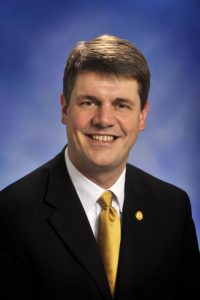 Thursday, Sept. 15
by Joe Haveman
6:45 p.m. Reception – 7:30 p.m. Presentation Begins
Lake Michigan College
125 Veterans Blvd.
South Haven, Michigan
The skyrocketing cost of prisons and the issue of criminal sentencing reform will be the topic of the next South Haven Speakers Series presentation on Thursday, Sept. 15, at the South Haven campus of Lake Michigan College, 125 Veterans Blvd.
The presentation will be made by Joe Haveman, a former Michigan State Representative who is an advocate for prison reform.
Attendees are invited to meet the speaker prior to the event at 6:45 p.m. The presentation will begin at 7:30 p.m. Admission is $10. Students are admitted free.
Haveman is presently director of government relations for the Hope Network, a behavioral healthcare and neuro-rehabilitation nonprofit organization. In this position, he is seeking to increase the public's awareness of issues such as prison and criminal sentencing reform.
Haveman, who lives in Holland, served two terms as the State Representative for the 90th District in the Michigan Legislature. He was chairman of the House Appropriations Committee and led conversations on prison reform. He has spoken before state and national audiences on the subject, and through advocacy, has worked to change Michigan's legislative dialogue on corrections policy.
Michigan spends nearly $2 billion a year on prisons, about $35,000 per inmate. The cost is 60 percent more than is spent on higher education. In 2013, the most recent year for which data is available, the Michigan prison population was 43,700. More than 30,000 prisoners were in for violent crimes while nearly 10,000 were sentenced for non-violent offenses. About 3,300 were imprisoned for drug crimes.
Advocates for prison reform believe laws establishing guidelines that take away sentencing discretion from judges haven't created a safer society. They also believe money would be better spent providing persons in the justice system psychiatric help and proper medication.
Prior to his election to the state legislature, Haveman was director of business development at GDK Construction, executive director of the Holland Home Builders Association and a former member of both Holland City Council and the Ottawa County Board of Commissioners.
The South Haven Speakers Series, with the theme "Issues, Innovations and Ideas Shaping Our Lives," was launched in 2015 for the purpose of informing citizens by stimulating thought on significant issues of the day through presentations by non-partisan experts not otherwise available to South Haven.
The Series is a non-profit organization with an all-volunteer board of directors headed by President Mark Odland. It support through contributions from generous donors, including the South Haven Community Foundation.
ADMISSION $10 (includes pre-presentation reception with refreshments)
Students admitted without charge.
---
The Case for Sentencing and Prison Reform was presented by former State Representative Joe Haveman on September 15 at Lake Michigan College in South Haven. Joe carefully laid out the legal, social, economic and societal reasons for modifying our current approach to dealing with those who have broken the law, and provided suggestions to help bring about improvement.
This well attended presentation was preceded by a wine and cheese reception hosted by Carole and Don Hodgman, and followed by a highly engaged audience participation session in which Joe took all questions until the end of the evening.
The South Haven Speakers Series extends special thanks to our speaker, Joe Haveman. We are also thankful for the hospitality of Lake Michigan College for their special efforts with the sound system improvements and the excellent room set up. And, thank you to the audience for your excellent questions and your incredible level of engagement.
Our final presentation is scheduled for October 20 when A. Brad Schwartz presents Fake News, a timely topic given our current political climate.