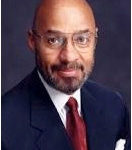 Thursday, May 24
by Dennis Archer
6:45 pm Pre-presentation Reception with Speaker – 7:30 pm Presentation Begins
Lake Michigan College, South Haven Campus
125 Veterans Blvd.
South Haven, Michigan
Former Detroit Mayor Dennis Archer and member of the Michigan Supreme Court offers his inspiring perspective on perseverance and leadership. Widely known for his political service, Archer also had a distinguished legal career as a respected judge, first black president of the American Bar Association, and one of the 100 Most Powerful Attorney's in The U.S.
The fourth presentation of 2018 will be held on Thursday, September 27 when Jack Segal, retired diplomat, White House Security Council Member and nuclear arms negotiator offers an insider's perspective on foreign policy challenges that may seem fraught and complicated to most people.
The presentation "Reflections on Leadership and Perseverance" by Dennis Archer was well attended. Here's some photos from the event.
Watch the Video – Reflections on Leadership and Perseverance, Dennis Archer
Video by Richard Brunvand