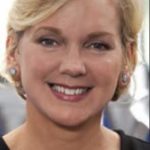 Thursday, September 19
by Jennifer Granholm
7:30pm Presentation Begins (No Social Gathering)
Listiak Auditorium, South Haven High School
500 LaGrange Street
South Haven, MI 49090
As part of the 2019 Speaker Series of South Haven, former Governor Jennifer Granholm will speak on Top Trends Affecting Michigan. The program will begin at 7:30 pm. Due to the anticipated high number of attendees, the usual reception preceding the talk will not be held.
Admission is $10 with students, educators, and clergy admitted free. Tickets will be available at the door.
Tickets can be purchased online. Click here.
Since leaving office in 2011 Jennifer Granholm has been involved in numerous projects such job growth in clean energy, information technology, sustainability, climate change, and the development of public policy. Paired with her eight years experience as Governor and four as Attorney General, Granholm's perspective will pose a compelling look at Michigan's future.
She currently serves on the faculty at UC Berkeley teaching courses in law and public policy, and is a Senior Research Fellow at the Center for Information Technology Research in the Interest of Society, and the California Institute on Energy and the Environment. She is chair of the American Jobs Project, a multi-university research initiative focused on state-based policies to create jobs in clean energy, and does research in the subjects of artificial intelligence, employment and automation. She also serves as a Senior Contributor to CNN.
Granholm is also the Managing Partner for the Sustainability Group of Ridge-Lane, LLC, is the CEO of Granholm Mulhern Associates, and serves on several boards of companies and nonprofits. A senior contributor to CNN, she is also the co-author of the political bestseller, A Governor's Story: The Fight for Jobs and America's Economic Future.
Governor of Michigan from 2003 to 2011, Granholm pioneered clean energy innovation, economic development, and led the state through the national crisis in the turn-around of the American automotive and manufacturing sectors. During her terms, the state attracted almost 4,000 companies and Site Selection magazine repeatedly named Michigan as one of the top three states in the nation for business locations or expansions. Under her leadership, Michigan was twice recognized by The Pew Center on the States as one of the best-managed states in the nation.
LOOKING AHEAD
For its final 2019 event the Speaker Series will host Social Psychologist David Meyer at Listiak Auditorium on October 17. His topic Smart Thinking in A Post Truth Age will address dealing with false beliefs and fake news.
Watch the Video – Top Trends Affecting Michigan, Jennifer Granholm
Video by Richard Brunvand