The idea of creating the South Haven Speakers Series was the inspiration of Robert Copping, founding president of SHOUT for South Haven.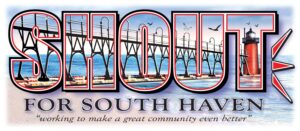 The SHOUT organization works to go where there is no path by initiating new paths in the community, paths or projects that might otherwise not see the light of day. The purpose statement for SHOUT is "working to make a great community even better". The South Haven Speakers Series fits that descriptive. SHOUT can also be credited with stimulating the creation of the popular South Haven Performance Series and South Haven Theatre Series.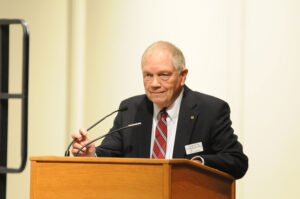 It was a blustery day on February 2, 2015 when a small group of South Haven area residents huddled together in the loft of Café Julia to begin brainstorming and envisioning the South Haven Speakers Series. The group talked about a vision that focused on inspiration and intellectual stimulation for interested members of the community, and finally settled on a mission centered on ISSUES, INNOVATIONS, and IDEAS shaping our lives. Our stated objective was to bring top non-partisan talent with important messages to our community and region.
We've worked hard to stay focused on our mission
With more than 25 events presented since 2015, the community response has been overwhelming. We outgrew our early presentation location and now use the high school auditorium that can comfortably accommodate several hundred attendees. The COVID pandemic hasn't deterred us. While we were sidelined in 2020, the 2021 series is taking advantage of technological advances that allow us to host events virtually.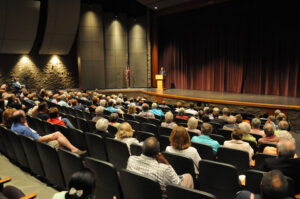 The South Haven Speakers Series is thankful for the attendance and generous support of many community members, civic organizations, our corporate sponsors and the South Haven Community Foundation. With your financial support, we will continue to bring talented and information speakers to our community.
Your consideration of a gift to the South Haven Speakers Series is greatly appreciated. Contributions are eligible for a tax deduction under section 501(c)(3) of the Internal Revenue Code. Please mail your tax-deductible donation to: South Haven Speakers Series, PO Office Box 986, South Haven, Michigan 49090.