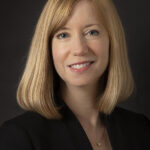 Thursday, October 7, 2021
by Kelley Root
Executive Editor, Crain's Detroit Business
South Haven Campus of Lake Michigan College in the newly renovated Community Room
Michigan Business Recovery
The pandemic is controlled, doors open – now what?
The South Haven Speakers Series resumes in-person presentations with a focus on Michigan's business climate and the pandemic.
Kelley Root, Executive Editor of Crain's Detroit Business, will address Michigan's business recovery on Thursday, Oct. 7 at 7 p.m. at the South Haven campus of Lake Michigan College, 125 Veterans Blvd.
The presentation will be held in the newly renovated and enlarged Community Room at the college. Attendees will be asked to comply with the current Covid-19 protocols which at this time requires the wearing of masks in the venue.
Root will focus on Michigan's businesses as the Covid-19 pandemic stretches into a second year. She will address the impact of the pandemic on businesses across the state through stories and data, accompanied by slides.
Ms. Root joined Crain's Detroit Business in March of 2020 after working at The Detroit News for 16 years, most recently as managing editor. Prior to her time in Detroit, she was a reporter and assistant city editor for The Grand Rapids Press. She earned a bachelor's degree in journalism from Michigan State University where she served as editor-in-chief of The State News.
Admission to the presentation is $10 at the door. Students, educators, and clergy are admitted free. Hearing loop technology is now available in the Community Room.