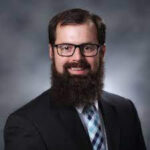 Thursday September 29, 2022
by Dr. Caleb Bupp, MD
Medical Geneticist
South Haven Campus of Lake Michigan College | 7 p.m.
Dr. Caleb Bupp, MD is a pediatrics trained, board certified medical geneticist who practices at Beaumont Health-Spectrum Health and Helen DeVos Children's Hospital in Grand Rapids, Mich. He will share his background and experience as he takes us through the process of genetic sequencing, a subject that is having a significant impact on the quality of our lives today and will increasingly impact us in the future. He will talk about the great advances in health care that have resulted from proactive versus reactive approaches, and how that change has improved the quality of life for many people. He will also address the unintended moral, ethical, and legal challenges that have arisen from the use of this technology to preselect or modify physical characteristics of unborn children.
Presentation will be held in the Community Room on the South Haven Campus of Lake Michigan College. The programs begin at 7:00 p.m. Admission is $10. Students free. Your contribution to the Speakers Series of South Haven is tax-deductible and may be sent to PO Box 572, South Haven, MI 49090-0986.