SHOUT for South Haven is pleased to be the founding sponsor of the South Haven Speakers Series.
It was a blustery day on February 2, 2015 when a small group of South Haven area residents huddled together in the loft at Café Julia to begin brainstorming and envisioning the South Haven Speakers Series.  We talked about a vision that focused on inspiration and intellectual stimulation for interested members of the community, and finally settled on a mission centered on ISSUES, INNOVATIONS, and IDEAS shaping our lives.  Our stated objective was to bring top non-partisan talent with important messages to our community and region.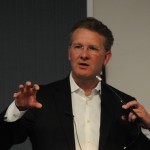 We've worked hard to stay focused on our mission in this our inaugural year.  Our first speaker was Peter Annin, author of the Great Lakes Water Wars, who presented a compelling story of the need for vigilance in  protecting the Great Lakes from water diversions.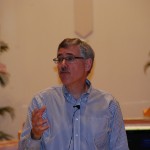 Peter was followed by Jamie Orlikoff, an internationally known health care expert, who spoke on the issues and challenges facing the health care delivery system today and in the future.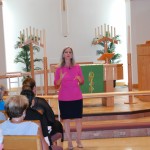 Our third speaker was Marci Rossell McCarthy, economist and former co-anchor of CNBC's Sqawk Box, who presented the case for economic optimism.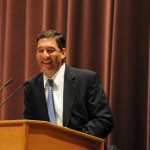 Our fourth and final speaker for 2015 was Patrick Miles, United States Attorney for the Western District of Michigan, who brought an inspiring message directly to the students at South Haven High School as well as to the community later that evening.
The South Haven Speakers Series Committee is thankful for the attendance and generous support of many community members and our corporate sponsors.  We are looking forward to announcing an exciting line up for 2016.  With your financial support, we will continue to bring talented and informative speakers to our community.
Your consideration of a gift to the South Haven Speakers Series is greatly appreciated. Please mail your tax-deductible donation to:
South Haven Speakers Series
Post Office Box 986
South Haven, Michigan 49090.
Benefactors:              
Donald and Carole Hodgman
Meijer Store of South Haven
South Haven Community Foundation
Major Donors:
Bob and Jane Copping                 Mark and LaRae Odland
Susan P. Ryan                              Rev. Donald and Ann Wheat
Wes and Elaine Stephens
Sponsors:
South Haven Rotary Club
Friends:
Sturgis Bank and Trust                Donald and Marion Hixson               Robert and Bridget Tolpa