The South Haven Speakers Series Board of Directors:
Joan Bauer
Bob Copping, Chairman
Carole Hodgman
Don Hixson
Susan P. Ryan
Rosemary Thurber
Janice Varney
Mark Odland, President

Dick Brunvand, Treasurer
Frank J. Cunningham
Sandy Fenske
Tom Renner
Elaine Stephens
Robert Tolpa, Vice President
Don Wheat
South Haven Speakers Series Benefactors

Don & Carole Hodgman
Mark & LaRae Odland
Meijer
SHOUT for South Haven
South Haven Community Foundation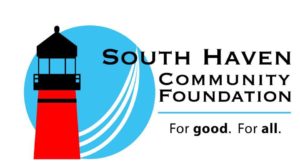 Major Donors
Bob & Jane Copping
Wesley & Elaine Stephens
Sponsors
Dick & Carol Averill
Joan Bauer
Brian Bosgraaf
Frank & Sue Cunningham
David & Sandra Fenske
Clark & Melinda Gruber
Don & Marion Hixson
Robert & Jeri Kelch
Elizabeth & George Miller
Birger & Sandy Olsen
Glenn & Mary Pietenpol
Sponsors
Tom & Carole Renner
Susan Ryan
Dawn Schumann
Bob & Kathy Straits
Rosemary Thurber
Bob & Bridget
Tolpa Nicholas & Nancy Tuit
Dave & Janice Varney
John & Margery Verbeek
Tom & Kay Whale
Don Wheat
Barry & Lynn Winkel
Friends
Barbara Bruce
Dick & Lois Brunvand
Lois Howard
Barbara Konrad
Judson & Marie McKinley
Marcia Robinson
Glenn & Sylvia Sperry
Gary & Leslie Wood
The South Haven Speakers Series is an all-volunteer non-profit organization qualified under section 501(c) (3) of the IRS code to receive tax-deductible gifts. Contributions may be sent to Speakers Series: PO Box 986, South Haven MI 49090. We also invite suggestions for future topics and speakers.